Into Marbles hopes to take the idea of playing with marbles and run with it, where ever that idea may lead. Our content consists of this web site, which was started in 2009. There is a free game for iPhone named Oh Marbles that has been on and off the Apple App store. The most recent effort is the beginning of stop motion animation series involving a gaggle of fictional kids and one old adult.
Publisher - Wes Sauer, Cider Press Media
Web Site Design - Wes Sauer
Comic Character Development - Pete Whitley, Andre Nussbaumer, Wes Sauer
Oh Marbles Game App Development - Grigory Vaigandt, Bhautik Gadhiya, Wes Sauer
HTML5 Canvas game development - Andre Nussbaumer

Cider Press media is a name inspired by fond memories of making apple cider, playing games in the summer, playing practical jokes and other fine memories that I experienced with my grand father. Welcome Friend Sauer (1903 - 1972) worked as a mail carrier, beginning in a Model A Ford and retiring decades later after practically every one in town knew him.
We still find marbles around his house and garden.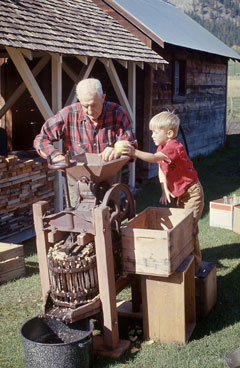 Wes Sauer and his grandfather, Welcome Sauer.
Photo by Gary Sauer, (ca. 1970)