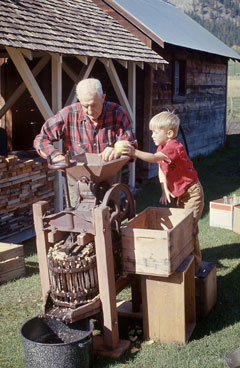 Wes Sauer and his grandfather, Welcome Sauer.
Photo by Gary Sauer, (ca. 1970)
The naming of this production company after Welcome Sauer was inspired by fond memories of making apple cider, playing games in the summer, gardening, eating honey in the honey comb, playing practical jokes and other fine memories that I experienced with my grand father.
Games published under the Cider Press Media name will be nostalgic and family friendly. We home you enjoy our first game based on the classic game of marbles. Watch for it in the Apple Store this fall. Cheers!
Like us on Facebook.
Wes Sauer