Oh Marbles! This game is about to get a fresh start in 2017.

Oh Marbles is a classic marbles game for the iphone and iPad.
There are some major changes in the works for Oh Marbles! This web site and the game are published by Cider Press Media. The original release of Oh Marbles! has been removed from the Apple Store. It will be re-released in 2017 with significant changes. The original game is gone, and the new one will be much better. The next version of Oh Marbles will include the features that people have requested in the first game. If you are interested in this game, contact us.
As in the classic game, Oh Marbles presents the best experiences of playing marbles – wining, losing, collecting, trading and pondering the endless variety of marble designs. Children everywhere have gathered to play marbles in school yards, homes, or any other place where kids play. Every marble player had marbles in different, fascinating designs. Oh Marbles is designed to present that same experience.
Oh Marbles!
Game marbles are a growing set with beautiful and entertaining designs. This web site enriches the Oh Marbles! marble playing experience we introduce new marble designs. 

Objective – Manage your marble set to get the best designs, best shooters, and largest collection of marbles. Creative players may make marbles that are added to the game and available to other Oh Marbles players. 

control – original glass marbles were shot by "knuckling down", and flicking the marble with the thumb or tossing it with two fingers. oh marbles supports pinching, dropping and shooting marbles too. the game includes a tutorial to explain the user interface. 

trade and collect – as players gain more experience, they become qualified to download new sets of marbles. any marble can be won or lost in a game, or given away to a friend. 

contribute – imarbles.com is an open system that permits anyone from grade-schoolers to graphic designers to create digital marbles. designs may be submitted in three formats; still images, animations, and 3d models. once approved by our moderators, they are released to into the game. 

double click on any marble at the bottom to see it large and decide to play it or select another one. when marbles are displayed, the marble name, person who designed it, and their web site are displayed at the top.



animated marbles play on the screen for you. new designs are introduced regularly.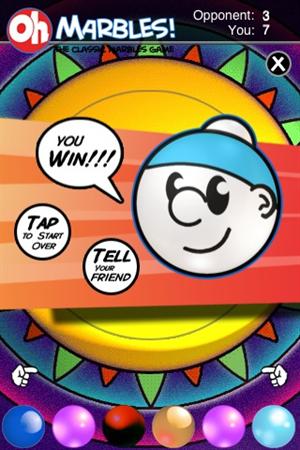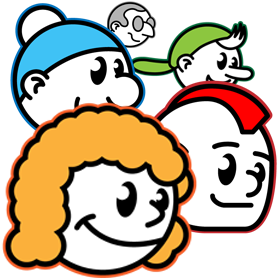 where ever you play marbles, we hope you'll meet some marble playing friends!
Features: 
oh marbles comes with the following features. wireless online play will be added in a future version.
socially interactive design that supports exchanging marbles between players. 
three classic marble games; ringer, ring-taw, dropsies. 
fifteen different play environments including a skate park, grandma's house and a school yard. 
one hundred basic marbles included. 
endless supply of user generated marble designs to download from imarbles.com. 
three types of marbles – still images, animations, 3d models. 
creative marble designs including cartoons and visual jokes. 
game marbles have different weights and sizes for in-game physics surprises. 
win, lose, collect and trade digital marbles. 
web site to support marble design submission and user profiles. 
web site for "trophy case" display of your marbles. 
web site to describe everything you would ever want to know about playing marbles.

visit places like the toy store, gramma's house, playground, or park. in ikeepsies you can play marbles in any of 15 locations.

you can even play marbles at the moon marble company.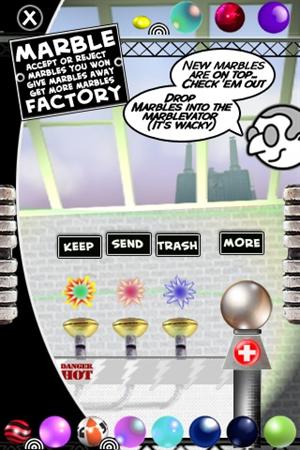 use the marble manager to sort through marbles you have won and decide to keep them, discard them, or give them away.



Reviews: 
"i like the graphics in oh marbles!, they've got a retro, comic book type feel to them."
the iphone mom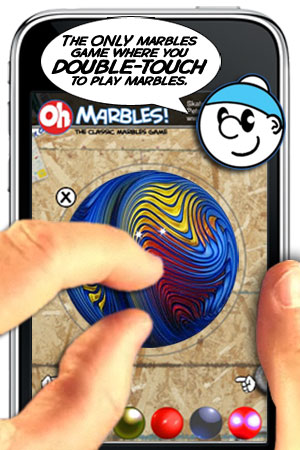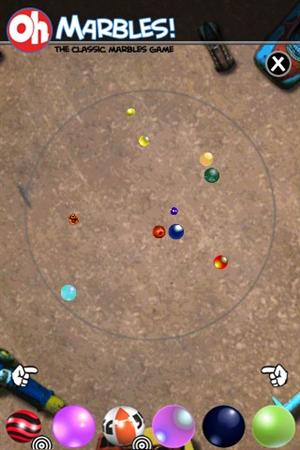 you can rotate the around the game circle 360 degrees. just press the hand icons near the bottom. the scene above is a special, unmarked scene. can you find it in the game?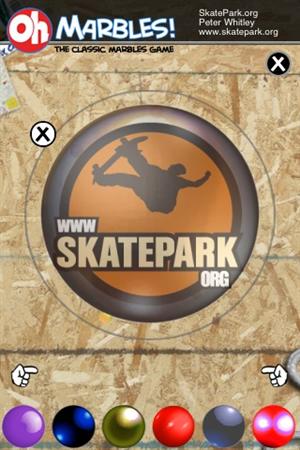 when marble is displayed large, double touch it to position it and drop it in the game. each of the scenes rotates and most contain a hidden suprise. for example, which comic magazine is hidden in the treehouse?